WannaSpam: Campaña de correos spam que pretende ser WannaCry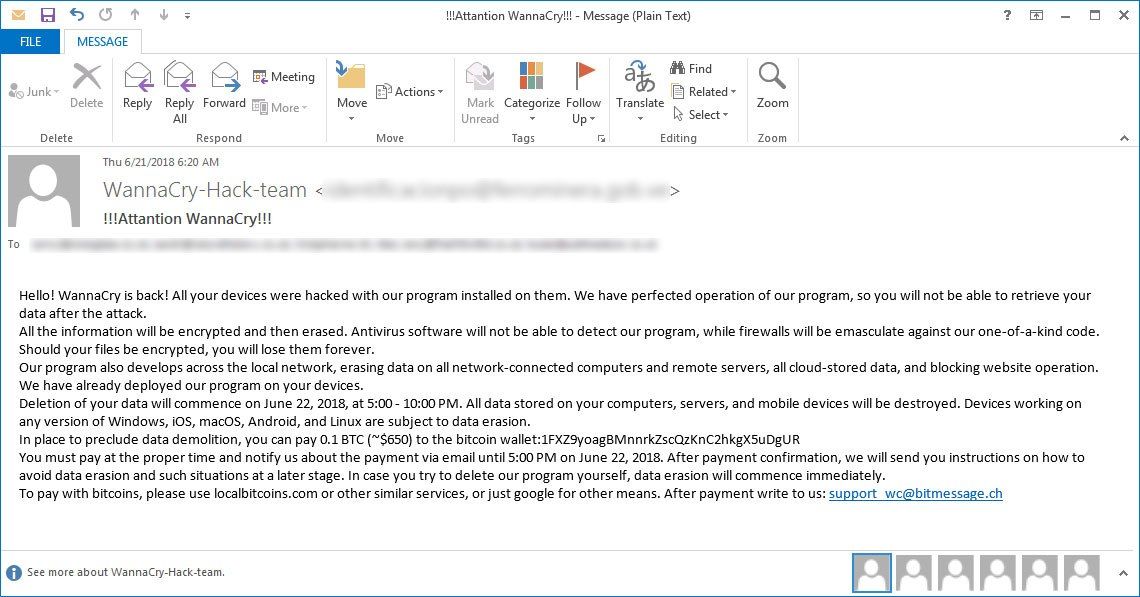 Se está llevando a cabo una nueva campaña de correo no deseado que pretende ser de un grupo llamado "WannaCry-Hack-Team" que dice que el infame WannaCry Ransomware ha regresado, que el ordenador de los destinatarios está infectada y que necesitan enviar algunos bitcoins o que no se eliminen tus archivos. Esto no es más que un WannaSpam, no hay nada que afecte a tu ordenador, y el correo electrónico simplemente debe ser arrojado a la basura que es el lugar que le pertenece.
Estos correos electrónicos comenzaron a aparecer ayer, 21 de junio de 2018, donde lo vi por primera vez en Reddit cuando un cartel se refería a que era real. Estos correos electrónicos vienen utilizando diferentes variaciones del mismo tema, como "¡¡¡Attantion WannaCry!!!", ¡¡¡WannaCry-Team Attantion!!! "," Attantion WannaCry","¡WannaCry Attantion!", o "WannaCry-Team Attantion!!!". Sí, la palabra "Attantion" se escribe de esa manera en los correos electrónicos.
Estos correos electrónicos indican que WannaCry ha regresado, que los dispositivos de los destinatarios estaban infectados con malware y que los datos de los destinatarios se eliminarán el 22 de junio de 2018 entre las 5:00 y las 10:00 PM a menos que envíen 0.1 bitcoins a una dirección de bitcoin incluida. Después de realizar un pago, se les pide que envíen un correo electrónico a [email protected].
Las direcciones bitcoin que he visto incluidos en los correos electrónicos no deseados son:
Afortunadamente, nadie se ha caído por esta estafa hasta el momento y envió a los estafadores cualquier bitcoins.
El texto completo de este correo electrónico no deseado se encuentra a continuación:
From: WannaCry-Hack-team [redacted]
Sent: 21 June 2018 10:36
To: [REDACTED]
Subject: WannaCry Attantion!

Hello! WannaCry returned! All your devices were cracked with our program installed on them. We have made improvements for operation of our program, so you will not be able to regain the data after the attack.

All the information will be encrypted and then erased. Antivirus software will not be able to detect our program, while firewalls will be impotent against our one-of-a-kind code.

Should your files be encrypted, you will lose them forever.

Our program also outspreads through the local network, erasing data on all computers connected to the network and remote servers, all cloud-stored data, and freezing website operation. We have already deployed our program on your devices.

Deletion of your data will take place on June 22, 2018, at 5:00 - 10:00 PM. All data stored on your computers, servers, and mobile devices will be destroyed. Devices working on any version of Windows, iOS, macOS, Android, and Linux are subject to data erasion.

In order to ensure against data demolition, you can pay 0.1 BTC (~$650) to the bitcoin wallet: 1Mvz5SVStiE6M7pdvUk9fstDn1vp4fpCEg

You must pay in due time and notify us about the payment via email until 5:00 PM on June 22, 2018. After payment confirmation, we will send you instructions on how to avoid data erasion and such situations in future. In case you try to delete our program yourself, data erasion will commence immediately.

To pay with bitcoins, please use localbitcoins.com or other similar services, or just google for other means. After payment write to us: [[email protected]]
Entonces, si recibe uno de estos correos electrónicos simplemente presione el botón Eliminar. No hay nada incorrecto en tu ordenador, WannaCry no ha regresado, sus archivos no serán eliminados, y esto es solo una estafa.